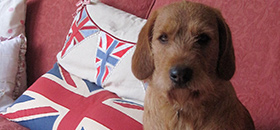 Course Details
Title: Understanding Canine Behaviour for Small Animal Hydrotherapist
Duration: 1 day
Day 1: 09:00 – 17:00
Fee inc. ABC Certification: £375.00 inc. VAT
ABC Qualification – A Nationally Accredited Diploma in Hydrotherapy for Small Animals
Level 3 Diploma – 3 credits
A mentoring service is provided to each learner on an individual basis for as long as they require optimizing their learning potential.
What will I gain from the course?
This one day course is lectured by an experienced canine behaviourist
This course provides learners with the skills to identify the signs of canine behaviour and communication, develop an understanding of canine behaviour, factors affecting and how it affects the patients you treat in hydrotherapy situations
Who is the course suitable for?
Veterinary Nurses
Veterinary Surgeons
Hydrotherapists
What's included in the fee?
Registration with awarding body
Grading of all assessments
Full certification
All refreshments during the course
Finish time may extend due to delegate interaction.
Please consider our Lecturers who have requested that delegates do not arrive before 08.45 in order that they can prepare themselves for the day's course.
Course Programme (brief overview – theory & practical)
Evolution and domestication of the dog
Innate and learned behaviour
The learning process and displacement behaviours
Body language
Internal and external factors affecting behaviours and the impact of these behaviours
Current UK legislation relating to behaviour and hydrotherapy practice
Devising hydrotherapy plans, preparation of the environment and application of a session using your understanding of canine behaviour
Claire Arrowsmith
BSC(Hons) MSC
» Full Profile
July 2015
"Another interesting course & excellent lecturer"
"Very interesting and enjoyable as always!"
"Excellent course brilliant day"
"A really brilliant day feel like Ive learnt loads thank you "
"Thoroughly enjoyed the course, everyone here is a credit to Hawksmoor. thank you will be back for the next set"
"Couldn't of asked for a better place to train, or people to do the training, thank you for all my new knowledge"
"Course was fantastic staff patient, accommodating for learning, a trip worth coming, pre communication was perfect & reduced nerves & stress. Passion is heart felt by you all & cant praise enough. Will recommend very professional approach"
"Fantastic course really enjoyed it & very informative Thank you"
October 2015
Thank you for all your very kind comments for the Level 3 Diploma Behaviour courses today with the amazing Clare Arrowsmith.
"Wouldn't train anywhere else!"
"If Claire was more local to me I would refer my behaviour case to her and use her for me dogs"
"I Really enjoyed the case studies we looked at and learnt a lot more from them. They were all valuable Thank you"
"It was interesting to listen to the dogs claire had dealt with & how they responded"
"Claire is very passionate & knowledgable with real life eg's"
"Excellent course very well delivered. Thoroughly enjoyed it and have learnt lots to take back to my clinic"
"Fabulous course once again! Wouldn't dream of doing hydro training anywhere else. Will be returning to finish the diploma"
"Another excellent lecture at Hawksmoor. Claire was again excellent. Will look out for more lectures by Claire for the future"
"As usual an excellent lecture. Claire was very knowledgable and made every aspect interesting and easy to understand. I now have a better understanding of canine behaviour"
"Very informative & Knowledgable lecturer. Thank you Claire now have a better knowledge of dogs behaviour & how to deal with them"