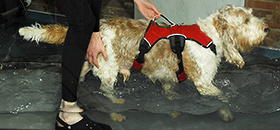 Course Details
Title: Introduction to Hydrotherapy Treadmill Therapy
Duration: 1 day
Day 1: 09:00 – 17:00
Fee inc. £375.00 inc. VAT
Certification: ABC
ABC Qualification – A Nationally Accredited Diploma in Hydrotherapy for Small Animals
Level 3 Diploma – 3 credits
A mentoring service is provided to each learner on an individual basis for as long as they require optimizing their learning potential.
What will I gain from the course?
Further your skills and knowledge as a Hydrotherapist
Learn how an aquatic treadmill operates along with the associated equipment required and management of patients and their owners prior to, during and post session
Learn how to utilize the properties of the water to target specific limb regions and gain maximum extension and flexion in joints as well as correction of gait patterns
Adequate assessment of patients and their condition(s) prior to Aquatic Treadmill Therapy is essential, part of the course involves you deciding a patients suitability for hydrotherapy therapy treadmill treatment
Who is the course suitable for?
Veterinary Nurses
Veterinary Surgeons
Hydrotherapists
What's included in the fee?
Registration with awarding body
Grading of all assessments
Full diploma
All refreshments during the course
Finish time may extend due to delegate interaction.
Please consider our Lecturers who have requested that delegates do not arrive before 08.45 in order that they can prepare themselves for the day's course.
Course Programme (brief overview – theory & practical)
Comparison of aquatic treadmills and their features
Appropriate positioning of an aquatic treadmill
Maintenance and operation of the aquatic treadmill
Suitability of a patient for aquatic treadmill therapy
Effects of water level, speed and duration of aquatic treadmill sessions on the patient
Observation of the aquatic treadmill session
Making adjustments to improve results of the aquatic treadmill session
Preparation of the patient and the client for an aquatic treadmill session
Sara Marlow


RVN RCH PTLLS
» Full Profile
Sue Hawkins

Cert Ed
Diploma course Introduction to the Aquatic treadmill
July 2017
Thank you for your lovely feedbacks for the Hawksmoor level 3 diploma in hydrotherapy for small animals, Introduction to the Aquatic treadmill.
Really good day & helpful to put everything into practice to see how different things work on different dogs
Really good day, thank you for the last 10 days its been amazing
Amazing day, great introduction to the treadmill. Ive had the most amazing 10 days at Hawksmoor. Thanks for everything Cant wait to come back for the independent assessment days
Fab day! great into to the treadmill
Brill day, really enjoyed practicals
Great day, looking forward to the advanced course
Interesting & informative motivation to do the advanced treadmill. Great tutors!
Really enjoyed intro to treadmill today, very informative & helpful
May 2017
Another amazing day, with a small insight to the treadmill. Such subtle changes to water level & speed to effect on dogs movement. Looking forward to returning next year.
Really enjoyed the first session for the diploma. Very good practical assessments, extremely helpful to put theory into practice. Brilliantly run course, and a fantastic team 2 legs & 4 legs
Really enjoyable & worthwhile course today. Thanks to Sue, Sara & pooches for all your support & imparting your knowledge & expertise
Looking forward to coming back soon
Brilliant to see the treadmill theory put into practice, & great to have the opportunity to note how water level affect different breed shapes
Really well put across theory
Wonderful day like the other. The practical has been really useful
Amazing finish to a fantastic day. Loved the practical element of the day
Well, today was the last of my 10 day course & I am completely blown away. What I have learnt is amazing. Great place, great team a real inspiration.
I have been looking forward to this course all year & it has been invaluable I have really enjoyed today Thank you
October 2016
"Great day learning about treadmill & practical session made everything clearer. A good day & very well explained no stone unturned! Thank you"
"Very informative day about the treadmill have learnt lots & need to put it in all the info into practice Thank you"
"Amazing day learnt lots thank you"
"Very interesting sessions, practical unit gave me my first insight into actually using a treadmill. Eye opener!
"Intro to treadmill, fantastic day!"
"Had a really good day. Always look forward to coming here"
"Great day! Really great information & hints & tips!"
"Loved today, really enjoyed the practical this afternoon thank you so much"
 September 2016
"Important different company treadmill when you are just about to buy one is brilliant"
"Enjoyed demonstration of use of hydro treadmill"
"Instructors very knowledgable"
"Excellent day specially enjoyed the afternoon Very many thanks"
"Fantastic lectures & teachers"
"Enjoyable course & very informative"
"Very thorough & informative thank you"
"Enjoyed the course Very informative"
"Good introduction not too formal but not too informal"
"Very informative thank you"
"Loved this course. Excellent intro if you haven't used a treadmill before. Great practical again Thank You"