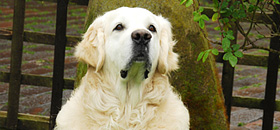 Course Details
Title:Duration:
Fee inc. ABC
Certification:
Disorders of the Canine Stifle Joint for Hydrotherapists
Self Directed Learning£220 inc. VAT
ABC Qualification – A Nationally Accredited Diploma in Hydrotherapy for Small Animals
Level 3 Diploma – 3 credits
A mentoring service is provided to each learner on an individual basis for as long as they require optimizing their learning potential.
What will I gain from the course?
This distance learning course has been complied to give hydrotherapists further knowledge and understanding of canine cruciate and patella disease through researching the anatomy, physiology and surgical procedures relating to cruciate and patella disease.
The student can then use this information to improve the hydrotherapy treatment they offer to their patients.
Who is the course suitable for?
What's included in the fee?
Registration with awarding body
Grading of all assessments
Full certification
Self directed learning course where you will study the following topics:
The effect of a luxating patella on the stifle joint
The effects of cruciate ligament disorders on the stifle joint
Surgical procedures to correct a luxating patella
Surgical procedures to correct cruciate ligament disorders
How knowledge of cruciate ligament disorders and luxating patellas influences the patients you treat within the hydrotherapy centre