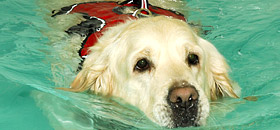 Course Details
Title: Water Management with Small Animal Hydrotherapy
Duration: 1 day
Day 1: 09:00 – 17:00
Fee: £375.00 inc. VAT
ABC Qualification – A Nationally Accredited Certificate in Hydrotherapy for Small Animals
Level 3 Certificate – 3 credits
A mentoring service is provided to each learner on an individual basis for as long as they require optimizing their learning potential.
Who is the course suitable for?
Invaluable to all Hydrotherapy centres
Hydrotherapists
Physiotherapists
Veterinary Surgeons
Veterinary Nurses
What will I gain from the course?
Understanding of the importance of correct management of water within the hydrotherapy centre
Understanding of how the centre operates, the equipment used, its role and how to maintain it correctly
Ability to identify the chemicals involved in treating water, their safety, storage and correct handling
Identify water parameters, how they are measured and what action should be taken if they are incorrect
Complete water tests using various methods of water testing equipment explaining its significance and interpretation of the results
What's included in the fee?
Registration with awarding body
Grading of all assessments
Full certification
All refreshments during the course
Finish time may extend due to delegate interaction.
Please consider our Lecturers who have requested that delegates do not arrive before 08.45 in order that they can prepare themselves for the day's course.
Course Programme (brief overview – theory & practical)
The importance of treating water
Legislation
Hydrotherapy equipment – description of equipment, its role and routine maintenance
Water treatment chemicals – purposes and effects
Water parameters, their effects and how they impact parameters
Water testing – tests required, common mistakes, how to test correctly
Chemical safety – storage and handling
Post course assignment
Howard Gosling
F.Inst.SRM
July 2017
Good useful information, I can take back with me too work
Good day, loads of info! Thanks
Lots of useful info from informative lecturer & brill to put into practice with practical demo
Great day, lots of helpful information
Amazing day. Great information to have a nice, happy & healthy pool environment
Water treatment course – very informative but very intense makes sense once doing the actual testing. Howard is very knowledgable
A lot of information to take in, but practical work helped understand a little bit more about chemicals. Very informative
Water management was surprisingly interesting! This is such an important subject I see now just how important it is!
Enjoyed the session a lot more to water than I ever thought possible Thank you
Really informative day, Howard explained everything very clearly. Video examples were helpful in demonstrating the effects of using & handling chemicals. Thank you
Very interesting day full of useful info to properly manage the water. Howard has clarified a lot of doubts I had regarding chemistry
May 2017
I feel so privileged to be in Howard's presence & to learn from him. He truly is the best of the best
Good info on water & practical, I need more practice to get my eye in!
Howard is extremely knowledgeable. Very entertaining Too. Great practical & good advice
Howard has been a great teacher, learnt a lot more than I thought I would, very knowledgable & no question was stupid!. really helped increase my knowledge already & that I can take back into practice
Lots to learn & useful to put the theory into practice with the afternoons practicals. Knowledgable lecturer, good courses notes enjoyed the day.
Howard very knowledgeable & course delivered really well. The practical was very interesting & very useful
Howard made my day. It was so interesting & the practical element made me realise how important your reading can effect your business & health to the client
Howard has been an excellent speaker & has made water management understandable to me. It has been a very useful day
Howard is very knowledgable man & makes a potentially difficult subject easier to understand ( for a novice
voice like me) Thank very much
Very interesting. Seems very complicated at first but the practical in the afternoon was very helpful
Practical session was great for bringing everything together. Big help to have such a knowledgeable tutor
Very interesting & helpful, certainly helped to use the test kits
I really enjoyed this course. Very understanding for me. Thank you very much for having spend this day with me. Thank you for your humour.
Enjoyed today Howard has a lot of knowledge & passed on the information well. Thank you
Practical helped me to understand the theory. Howard is very knowledgable enjoyed the day 
Thank you for a very informative day. Learned to understand water management importance even better than before. Great delivery Howard is awesome.
October 2016
Thank you for the lovely feedback on the water management course today
""it was useful to have people around to ask for help during the practical – it made everything make sense"
"Howard explained lots & made sure we understood"
"Howard made the course very interesting. Practical activities then made sence"
"Fantastic! Howard is an excellent teacher, full of useful; tips & a world of experience. Thoroughly enjoyed the day"
"Wow, loads of info, bit of a hard slog but Howard made the subject easy to learn and fun"
"Absolutely amazing epic didn't see that coming. Really enjoyed water management bit of a science goes a long way"
"Lots of information but really interesting"
"Explained brilliantly I actually understood ha ha ;;"
"I thought I would struggle with the subject matter today but the lecture was well designed to best explain things. I feel i have understood everything (at the moment) & have good contacts to help in future if I get stuck"
"After doing the practical work it all makes sense! Thank you for all the information"
"Howard was gret woz dreading this but I feel now it makes sense"
"Very good informative & entertaining water management course it takes skill to make something complex and boring interesting "
"Howard Rocks!, brilliant guy who made a difficult subject really interesting thank you"
"Excellent and very informative day on water management. As always Sue and Sara were lovely, and will really miss being here"
September 2016
"Good day a tough topic that i was dreading. however after putting the photometer testing into practice it made it much simpler. Great day, great course thank you"
"Good day was quite tired after a full on few days of good learning"
"A very challenging morning which all came together in the afternoon so future trainees should not panic! lots of information but it goes in! Thanks"
"Loved the course. Tutor was fab! much more valuable information than I thought there would be, Very informative & really opened my eyes to what needs to be done every day in a centre"
"Very important information taught today to keep us and our clients safe the water"
"All very useful information which is obviously very necessary & important. Much more interesting than I was actually expecting"
"Very good content and very helpful. Thanks"
"Fab course very informative"