Hawksmoor | Hydrotherapy Pool
Individually designed rehabilitation programme tailored to your dogs individual needs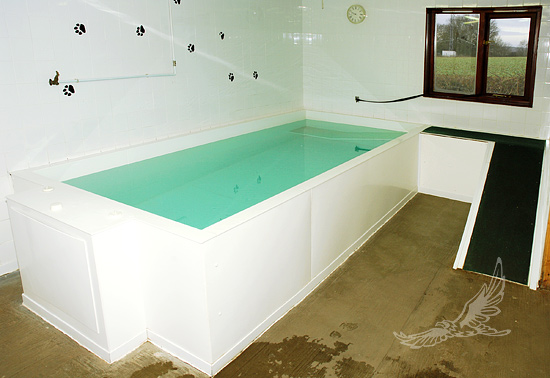 The Hawksmoor 12 foot hydrotherapy pool is heated between 30 – 32 degrees. This has important physical consequences: warm water causes the blood vessels to expand and this will result in a decrease in pain and stiffness and an increase in muscle efficiency.
The hydrotherapy pool is equipped with:
a sand filter
adjustable anti-swim jets
an electronically powered hoist
a non slip walkway in and out of the pool
adjustable resting platforms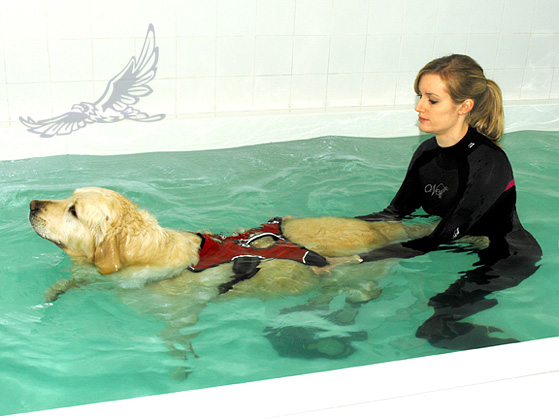 Swimming Techniques
The hydrotherapist will assess the animal and discuss with you the technique that is best suited for the condition being treated. All pets swim with a lifejacket and will be accompanied into the hydrotherapy pool by our qualified Hydrotherapist to assist them with the session and increase your pets confidence in the water.
Swimming Programmes
The amount of exercise done can be measured very accurately only by timing the swim, timing of use of anti-swim jets and recording the strength of the jets. This means exact requirements of the particular dog can be met and that the progress of the dog can be monitored session by session, so that the individual dog's programme can be increased appropriately.  Adjustable resting platforms can be utilised to provide a flat, appropriately sized resting space for your dog whilst they still benefit from the warmth of the water.
Pool Maintenance
To ensure correct levels of chemicals and for the safety of our clients, water quality is read three times a day with the use of a photometer. Readings are recorded, and amended accordingly. Water quality is important to the well being of your pet – something that cannot be accomplished when swimming in lakes, rivers and the sea.  You will see the readings we obtain written on the information board in the hydrotherapy centre.  The hydrotherapy pool and treadmill are bacteriologically tested by an external laboratory on a monthly basis also.
Swimming Video
Please note: Advertisement content shown at the end of these videos is not supported by Hawksmoor and is not the property of Hawksmoor
Dog's free swimming: