Hydrotherapy at Hawksmoor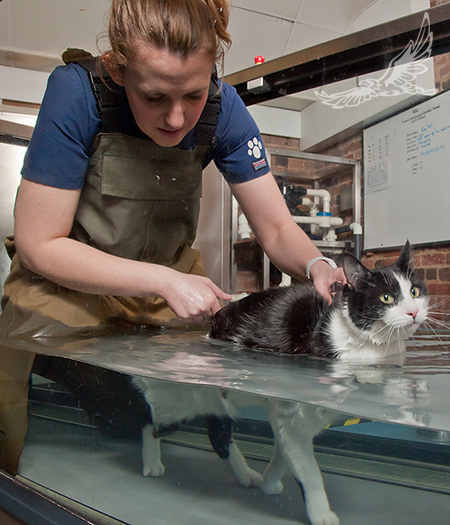 Swimming is a non-weight bearing, zero impact exercise that is beneficial for patients with arthritic and painful conditions. It can also provide relief from associated swelling and stiffness. The hydrotherapy pool is an anti gravity environment which is also used for active range of motion of weak limbs especially for neurological patients.
The aquatic treadmill is surrounded by glass sides to enable the hydrotherapist to monitor the animal's joint range of motion, stance time and stride length. The treadmill has a variable speed allowing us to achieve the correct gait pattern for the animal.
Walking on the treadmill is a closed chain exercise; the foot is fixed against a form of resistance. This method of walking with the support of the water targeting the relevant joints is an ideal way of re-educating the gait post surgery or injury. The treadmill is extremely useful for making the transition from water to dry land by gradually increasing the load on the affected joint.
For healthy dogs both the hydrotherapy pool and aquatic treadmill can be used to improve cardiovascular fitness and stamina.
Client Testimonials
Mrs Birt
Meet The Hydrotherapy Team



Example Session
What to Expect
We allow ONE pet to swim per session
Each animal is given a full heath check prior to their session
Each animal is showered and dried (either blow or towel dried) post session
Each animal is provided with an individually tailored treatment program devised by our senior qualified Hydrotherapist and Veterinary Nurse
Our fixed price is per session regardless of swim time
Pet insurance – many companies will cover the cost of hydrotherapy treatment. As a member of the Canine Hydrotherapy Association (CHA) Hawksmoor are professionally recognised by all insurance companies, however please check with your company directly.
Please Note: It is not always possible to book your pet with the same hydrotherapist due to a staff rota system. However, all our hydrotherapists are fully qualified having achieved the 'Level 3 Certificate in Hydrotherapy for Small Animals', in order that we give your pet our best attention at all times.
Opening Hours
| | |
| --- | --- |
| Monday | Closed |
| Tuesday | 12:00 – 19:20 |
| Wednesday | Closed |
| Thursday | 12:00 – 19:20 |
| Friday | 09:00 – 17:00 |
| Saturday | 09:00 – 17:00 |
| Sunday | Closed |
Hawksmoor Slimmer of the Year
Name: Jess Higgins
Breed: Border Collie
Total weight loss: 5.3kg
Now weighing in at: 20kg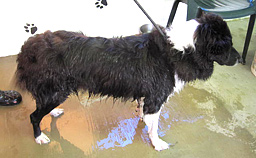 Top